Dañs Léon − Breizh Partitions

Dañs Léon
Dañs Léon is a "dañs Léon" sheet music from Country of Léon for the Vocals, violin and guitar. This music is traditional.
Download
You can download this free sheet music for the Vocals, violin and guitar below: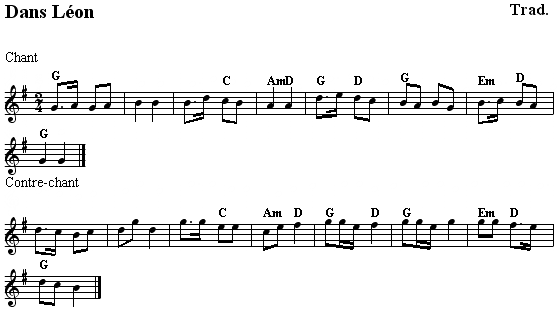 ---
Dañs Léon

1. Me m'eus bet plijadur, e Lambaol a wechou
   O ober tro an iliz, gand an all bannielou

2. Hag o stoui ganto dirag an aoter vraz
   Hag ouz o sevel kerkent, er vann,
                           ken dres all hoaz

3. Plijadur am beze pa veze ar pardon
   O ober tro ar vered gand an dud a galon

4. Eno'veze gwelet, pa groge an avel,
   Piou oa baotred wella da zougen ar banniel

5. Ha dre ma tremened, a bep tu d'ar vali
   Gant o zeod flour ar merhed a roe o ali

6. Hag a rae o dibad etouez ar baotred vrao
   A welent, en o haera, o tremen dirazo.
Upload your own sheet music
If you have some free sheet music (preferably written or arranged by yourself), we can add it easily (and for free, of course) to the Web site; just contact us!
The scores on this website are available for download for free; however, the non traditional scores can be copyrighted.
If you think one score should not be on this website, please contact the webmaster and it will be removed as soon as possible.