The Minstrel Boy − Breizh Partitions

The Minstrel Boy
The Minstrel Boy is a "song" sheet music from Ireland for the Vocals and piano. This music is traditional, written in c. 1800. The lyrics of this sheet music were written by Thomas Moore.
| | |
| --- | --- |
| Composer | Traditional (c. 1800) |
| Author | Thomas Moore |
| Origin | Europe > Ireland |
| Kind | Song |
| Instruments | Vocals, piano |
| Key signature | F majeur |
| Rythm | 4/4 |
| Downloaded | 12420 |
| License | Public Domain |
Download
You can download this free sheet music for the Vocals and piano below:
The Minstrel Boy - 1 / 2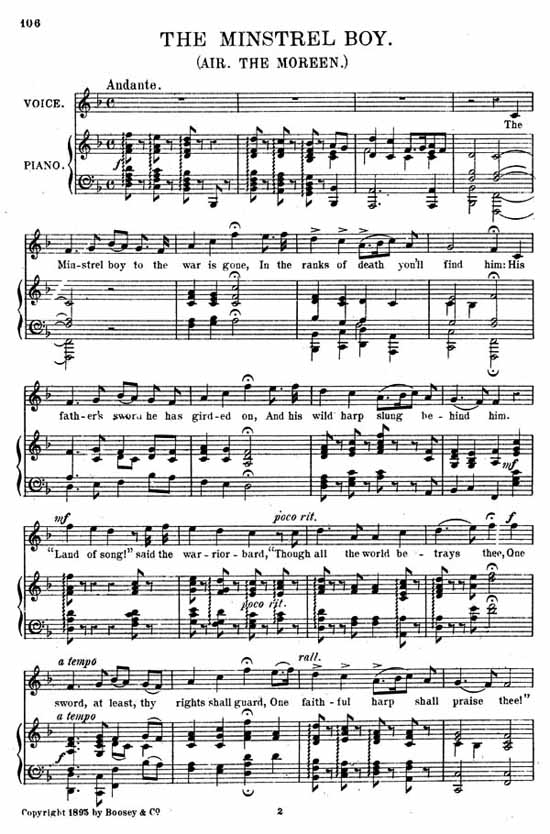 ---
The Minstrel Boy - 2 / 2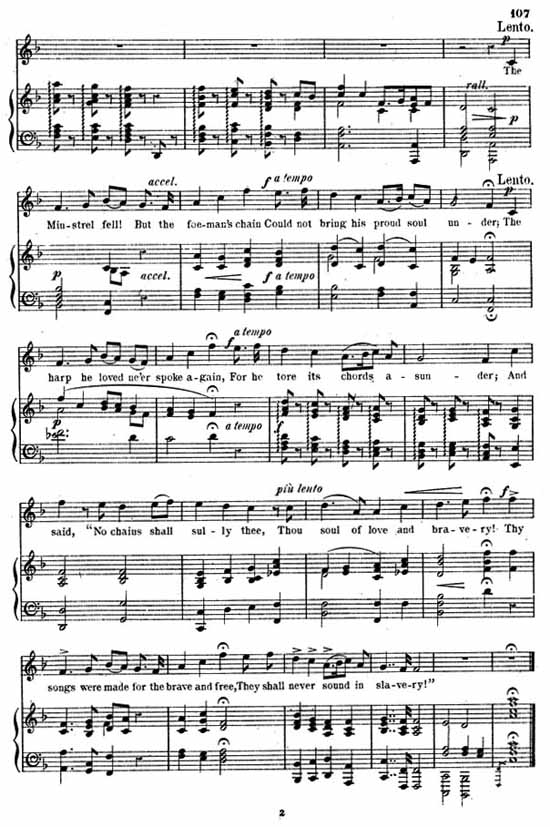 ---
The minstrel boy to the war is gone,
In the ranks of death ye will find him;
His father's sword he hath girded on,
And his wild harp slung behind him;
"Land of Song!" said the warrior bard,
"Tho' all the world betray thee,
One sword, at least, thy rights shall guard,
One faithful harp shall praise thee!"

The Minstrel fell! But the foeman's chain
Could not bring his proud soul under;
The harp he lov'd ne'er spoke again,
For he tore its chords asunder;
And said "No chains shall sully thee,
Thou soul of love and bravery!
Thy songs were made for the pure and free
They shall never sound in slavery!"


Upload your own sheet music
If you have some free sheet music (preferably written or arranged by yourself), we can add it easily (and for free, of course) to the Web site; just contact us!
The scores on this website are available for download for free; however, the non traditional scores can be copyrighted.
If you think one score should not be on this website, please contact the webmaster and it will be removed as soon as possible.