Buvons un coup caressons la bouteille − Breizh Partitions

Buvons un coup caressons la bouteille
Buvons un coup caressons la bouteille is a "lied" sheet music from Gallo-vannetais for the clarinet. This music is traditional. This sheet music has been arranged by Patrick Duplenne. The music of this score was interpreted by Patrick Duplenne.
| | |
| --- | --- |
| Composer | Traditional |
| Arranger | Patrick Duplenne |
| Typeset | Patrick Duplenne |
| Performed by | Patrick Duplenne |
| Origin | Europe > France > Brittany > Gallo-vannetais |
| Kind | Lied |
| Instruments | Clarinet |
| Key signature | D♭ minor |
| Rythm | 4/4 |
| Downloaded | 650 |
| License | Creative Commons BY-SA |
Download
You can download this free sheet music for the clarinet below: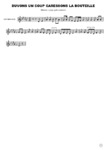 BUVONS UN COUP

Chanson Gallo vannetaise triste

Buvons un coup caressons la bouteille et laissons là
le plaisir et l'amour et laissons la tous ces cœurs infidèles
qui ne veulent pas nous porter le secours,

Et quel secours veux-tu que je t'y porte
Je ne suis pas la fille d'un médecin
je ne suis pas celle que ton cœur aime
Va t'en plus loin accomplir ton destin,

J'ai traversé les plaines et les campagnes,
j'ai entendu le rossignol chanter
Ah qu'y disait dans son joli langage
Les amoureux s'ront toujours malheureux,

Tambour battant, pour soulager mes larmes
C'est aujourd'hui qu'il me vaudra partir
C'est aujourd'hui que ma mie m'abandonne
Qu'a refusé de me donner son cœur

Upload your own sheet music
If you have some free sheet music (preferably written or arranged by yourself), we can add it easily (and for free, of course) to the Web site; just contact us!
The scores on this website are available for download for free; however, the non traditional scores can be copyrighted.
If you think one score should not be on this website, please contact the webmaster and it will be removed as soon as possible.