Mo Ghile Mear (My Gallant Darling) − Breizh Partitions

Mo Ghile Mear (My Gallant Darling)
Mo Ghile Mear (My Gallant Darling) is a "song" sheet music from County Cork for the Vocals. The composer of this score is unknown, but it is known that this music was written in c. 1746. The lyrics of this sheet music were written by Seán Clárach Mac Domhnaill.
| | |
| --- | --- |
| Composer | Unknown (c. 1746) |
| Author | Seán Clárach Mac Domhnaill |
| Typeset | Montserrat Jimenez |
| Origin | Europe > Ireland > Munster > County Cork |
| Kind | Song |
| Instruments | Vocals |
| Key signature | D major |
| Rythm | 4/4 |
| Downloaded | 10097 |
| License | Public Domain |
Download
You can download this free sheet music for the Vocals below: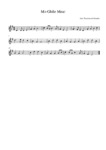 Sé mo laoch mo Ghile Mear
    'Sé mo Shaesar, Ghile Mear,
    Suan ná séan ní bhfuaireas féin
    Ó chuaigh i gcéin mo Ghile Mear.

    Seal dá rabhas im' mhaighdean shéimh,
    'S anois im' bhaintreach chaite thréith,
    Mo chéile ag treabhadh na dtonn go tréan
    De bharr na gcnoc is in imigéin.

    Bímse buan ar buairt gach ló,
    Ag caoi go cruaidh 's ag tuar na ndeor
    Mar scaoileadh uaim an buachaill beo
    'S ná ríomhtar tuairisc uaidh, mo bhrón.

    Ní labhrann cuach go suairc ar nóin
    Is níl guth gadhair i gcoilltibh cnó,
    Ná maidin shamhraidh i ngleanntaibh ceoigh
    Ó d'imthigh sé uaim an buachaill beó.

    Marcach uasal uaibhreach óg,
    Gas gan gruaim is suairce snódh,
    Glac is luaimneach, luath i ngleo
    Ag teascadh an tslua 's ag tuargain treon.

    Seinntear stair ar chlairsigh cheoil
    's líontair táinte cárt ar bord
    Le hinntinn ard gan chaim, gan cheó
    Chun saoghal is sláinte d' fhagháil dom leómhan.

    Ghile Mear 'sa seal faoi chumha,
    'S Éire go léir faoi chlócaibh dubha;
    Suan ná séan ní bhfuaireas féin
    Ó chuaigh i gcéin mo Ghile Mear. 


Upload your own sheet music
If you have some free sheet music (preferably written or arranged by yourself), we can add it easily (and for free, of course) to the Web site; just contact us!
The scores on this website are available for download for free; however, the non traditional scores can be copyrighted.
If you think one score should not be on this website, please contact the webmaster and it will be removed as soon as possible.